Your Personal Digital Asset Fortress Your Personal Digital Asset Fortress
The Wallet that Makes
Crypto Less Cryptic
Send secure transactions to names, not addresses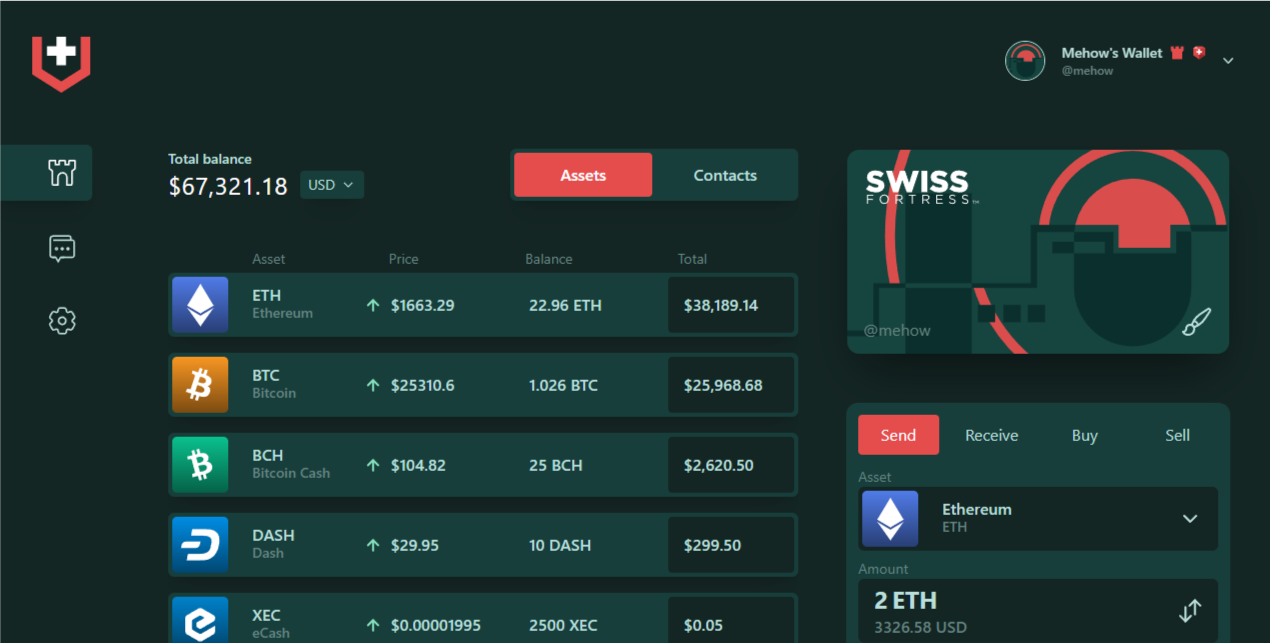 Crypto just got a whole lot simpler
Embrace the Future
Forget complex receive addresses, our 'Send to Name' feature connects you to the decentralized world but feels just like the payment apps you already use
Secure
Get your globally unique FortressNameTM but hurry, it's first come first serve.
Dot name extensions will be available in the future.
Share
Send your FortressNameTM privately to friends and family or post it publicy.
Even when you share it publicly nobody knows your wallet history.
Grow
Receive any supported crypto right in the heart of your digital fortress.
Our wallet keeps track of who you transact with by name.
Discover Your Self Sovereign FortressIDTM
Our secure and private system opens the door to a universal FortressID, allowing you to easily share your identity when and where you choose and verify others across the crypto sphere and NFT markets.
Join our FortressID initiative
Obtain your encrypted FortressID
Privately reveal your encrypted FortressID via chat to your counterparty
Your Privacy, Safeguarded Like a Swiss Vault
With automatically generated receive addresses that only transaction participants know about, unlike our competition. Just share your FortressName and our system takes care of the rest. It's that simple!
"Unlike our competition, when using SwissFortress, a 3rd party can't look up how much money a particular name has received and their entire transaction history in minutes with no special tools of any kind."
What's the big difference?
Sending crypto between 2 traditional wallets.
Bid Farewell to Phishing Scams
Your registered name is globally unique and cryptographically safeguarded. Impersonators don't stand a chance.
Unlock the Power of Secure Communication
Enjoy fully decentralized, end-to-end encrypted chat within the safe walls of SwissFortress. Just like your transaction history, your conversations stay completely private.
FortressIDTM for Contact @alice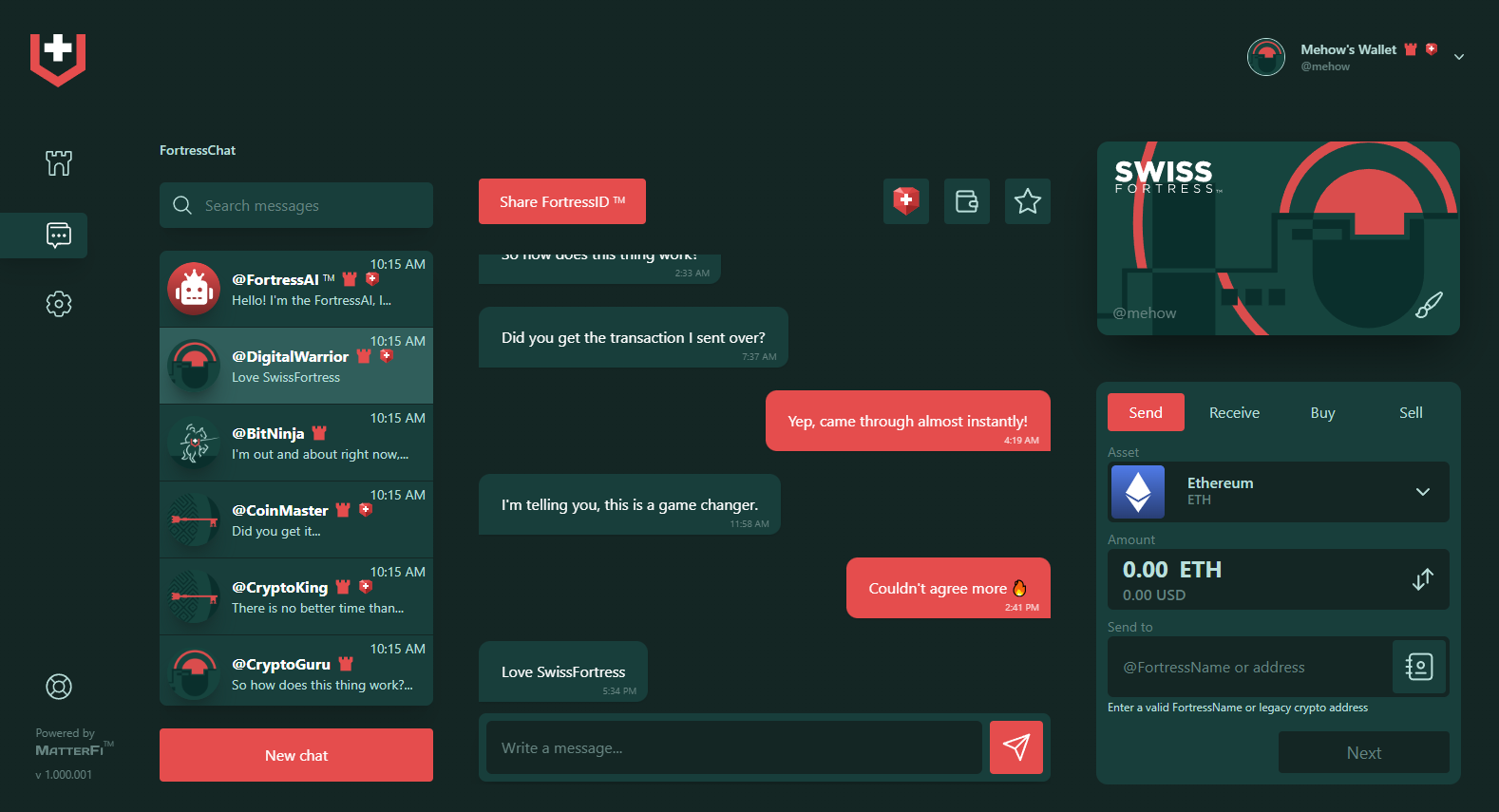 Join Our Desktop Testnet Beta Today
Windows 10 / 11 Mac Ventura
Embark on a journey with ETH, BTC, BCH, LTC, Dash, eCash, CSPR, SpaceDawgs (ERC-20)
Download
SwissFortress supports all 1200+ ERC-20 tokens
Connect your friends and family
With FortressCard
Our exclusive, patent-pending hardware wallet card makes crypto safe, secure and accessible to everyone.
Get in Touch With Us
SwissFortress loves impact and new projects. Whether you're trying to solve global problems or just want to add your token or chain to our ecosystem, don't hesitate to get in touch.
Global projects
Our technology is ideal for delivering funds in hard to reach places and bringing financial empowerment to underserved populations. Click here to superchanrge your charitable mission with SwissFortress.
Change the world with Swiss Fortress
Tech partners
Looking to integrate your token, chain or service to SwissFortress? Want to bring SwissFortress decentralized tech to your next project? Click here to get the process started.
Add your project to Swiss Fortress
But wait, there's more
We're Making Crypto a Better Place for Everyone
With the full release you'll be able to:
Register Your Globally Unique FortressName
Obtain Your Self Sovereign FortressID!
Buy and Sell Crypto Within the Wallet, Anywhere in the World
Preorder Your SwissCARD Hardware Wallet
Use our Easy-to-Use Self Custody Key Backup
Access Our Easy-to-Use Key Escrow via Separate Binary – if you don't want to manage keys by yourself
Automated Institutional KYC/AML Available for Business Wallets
Verify Incoming Funds for 'blacklisted addresses'
Access Co-branding Opportunities
Enjoy Support for 20+ Additional Chains
Receive Support for Common NFT and Token Standards
Access in German, French, English
Join Our Desktop Testnet Beta Today
Windows 10 / 11 Mac Ventura
Open the gate to your financial future.
Download
FAQ
Are there any hidden fees or TX charges?

Absolutely not. SwissFortress does not charge you to use it and there is no token to buy to make this precision Swiss convenience work.

How much does a FortressName cost?

Upon release, you can register your FortressName for as low as $6/year or 6CHF/year. No extra TX fees, just the standard mining fees for the chain you're using.

How can I get a FortressName?

Upon release, you'll be able to purchase your FortressName directly within the SwissFortress wallet using multiple forms of payment.

Can SwissFortress see my messages or transaction detail?

SwissFortress is fully decentralized, only you and the people you chat and transact with will ever have access to your interactions.

What information is needed to get a FortressID?

We run a full KYC process for users who wish to share their identity with other users. Something something blah blah blah.